Within a short walk of the resort you will find a grocery store, pub, restaurants, golf course, driving range, marina with boat charters & excursions, 2 salmon spawning rivers, trout and ocean fishing, mini golf, car racing at Saratoga Speedway which also offer go cart rentals, and a provincial park complete with a nature centre. Kayak & windsurfer rentals, coin laundry, and propane barbecues are available on site.
Outdoor Activities at Taylor's Sandy Beach Resort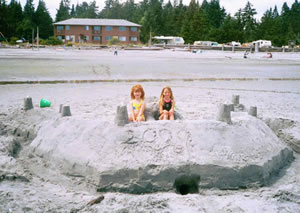 The children will love our ever expanding playground as well as the incredible beach and beachfront fire rings to cook hotdogs and marshmallows or just enjoy a romantic beach fire in the evening as the sun slowly sets and the cruise ships parade past. For grown ups we have a sauna.
Looking for things to do in the area?
Whether you prefer grizzly bear viewing, flightseeing tours, marine tours, or a look at aircraft, Vancouver Island Air will enure that you will enjoy your visit in Campbell River on Vancouver Island.
Enjoy exciting whitewater rafting on beautiful Vancouver Island with Destiny River Adventures. Offering a full range of trips, from serene scenic paddles for the novice to the more adventurous thrills of the big splash! Everyone can participate in the whitewater rafting with professional guides who will share their love and knowledge of the river with you and your group.